High-Pressure Alloy Die Casting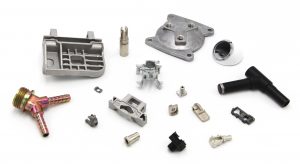 High-pressure aluminum and zinc die-casting is a metal casting process offered by Connor Corporation that is characterized by forcing molten metal under high pressure into a tool cavity. The tool cavity is created using two hardened tool steel dies, which have been machined into shape. Most automotive castings are made from non-ferrous metals, specifically zinc and aluminum alloys.
The process results in durable parts that you can count on under stress. Our alloy die casting expertise gives us the capability to support your projects with a number of metals and personalized service, but with competitively priced craftsmanship. Don't settle when it comes to your castings. Choose the team that makes the most of every application.
We understand that each part you order is an investment — one that often impacts your reputation among your customers. That's why we work hard to perfect a process that maximizes benefits while taking advantage of in-house capabilities for simplicity and efficiency.
Understanding the Benefits
Depending on the type of metal being cast, a hot-chamber conventional or hot-chamber multi-slide (4 slides) machine is used for zinc die-castings, and a cold-chamber conventional device is used for aluminum. A primary advantage of this casting process is the ability to produce intricate zinc and aluminum die-castings at a high volume. Many times, net shape parts can be produced, resulting in a finished part with little-or-no secondary processes. The tools, built from tool steel, are reusable so die casting can produce economical part prices for higher volume programs. Average volumes start at 25,000/year and go higher from there. Machining parts, and forging plus machining, have their advantages, but the costs are often higher with these processes.
We commit to giving you quality at very competitive pricing. Our streamlined production process delivers fast results with the lasting strength we're known for. Plus, our secondary finishing capabilities ensure that your parts are exactly as-needed when they reach your hands. When you work with us, you get results:
Quickly
Conveniently
Affordably
Without Compromise
Secondary Operations
We offer various machining, plating, and finishing operations in-house to provide a finished part.
This approach means no complex production processes and quicker results when you're working on a tight timeline. Because you can count on us from everything from the initial die casting alloy to the final touches that make each product ready for use, we are your go-to option when you want one partner for the entire part creation process. Simplify your supply chain by getting your castings with minimal complexity.
Our Machines
2×2 multi-slide die casting machines
4×4 multi-slide die casting machines
60-ton die casting machines
120-ton die casting machines
300-ton die casting machines
800-ton die casting machines
1,200-ton die casting machine
2,000-ton die casting machine
Our Alloys
Aluminum 380/ADC10
Aluminum 383/ADC12
AlSi9Cu3
Zamak 2
Zamak 3
Zamak 5
Zamak 7
ZA-8
Beric
Ezac
Additional information on these alloys and standard tolerances can be found here.
Contact us today to get the best in high-pressure die casting. We proudly serve clients from across North America.