Reliable Automotive Forgings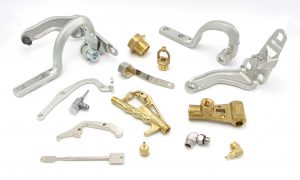 Rely on Connor Corporation for all of your forging needs. Forging is a metal forming process characterized by hammering or pressing a hot metal piece inside a specialized tool cavity. This cavity is created using two hardened tool steel dies, which have been machined into shape and cycled in a powerful forging press.
Our experience allows us to streamline and perfect this process, delivering durable results that empower your most vital applications. When reliability is the key to your success, count on us for automotive forgings, or forgings for other applications. With product options at different chemical compositions and mechanical performance capabilities, we can take on a wide range of projects and create parts that you can trust.
Understanding the Benefits
Automotive forgings frequently feature ferrous and non-ferrous metals alike but most frequently utilize steel, brass, copper, and aluminum alloys. Using steel forgings results in the production of high strength alloys that cannot be die-cast, making it both effective for numerous applications and faster than machining.
We offer aluminum, brass, and steel forgings based on your project's needs. With every part we craft, we strive to maximize resilience and ensure that you never have to worry about compromised function. That way, you can focus on the requirements of the job — not the quality of the parts you use.
Secondary Operations
Along with our aluminum forgings, steel forgings, and brass forgings, we offer various machining, plating, and finishing operations in-house to provide a finished part.
Our Machines
We employ a number of machines to ensure that we can meet your needs. Each one offers a full range of capabilities in the hands of our experts. From steel to aluminum forgings, you can get the right parts for your project by turning to our team. Our available machines include:
160-ton forging presses
300-ton forging presses
400-ton forging presses
600-ton forging presses
630-ton forging presses
1,000-ton forging presses
1,600-ton forging presses
Our Alloys
Each of our alloys follows careful parameters for strength and function. We understand that the material we use impact your applications. That's why our team takes care to utilize dependable alloys and provide clear information on their specifications. When you work with us, you get access to alloy options like:
Steel (#20, #45, Q235, Q345, 20Cr, 42CrMo)
Brass (HPb58-3, HPb59-1)
Copper (C36000, C3771, C46500)
Aluminum (LD5)
Additional information on these alloys and standard tolerances can be found here.
Contact us today to discuss your metal forging application. We proudly serve clients from across North America.